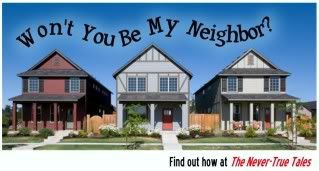 Today I am pleased to welcome Amber of Making the Moments Count as my latest guest in Amy's Won't You Be My Neighbor series.
I met Amber last fall shortly after I started blogging (thanks again to Jen and Sarah of Momalom and their Five for Ten event).  I was immediately drawn to her writing and the heartfelt way in which she described the challenges of parenting a newborn and a toddler (sound familiar?).
Amber is a realist and an optimist all at once: she tells it like it is, never shying away from the gritty details of colic and exhaustion, but she tempers it all with a wicked sense of humor and a powerful sense of love for her children, her family, and her life.
Thanks, Amber, for sharing a piece with us today.
—
Parenting Books Really Aren't That Bad After All
By: Amber of Making the Moments Count
Many of you know my general dislike for parenting books.  I am sure you can imagine the discussions I have with Ben about what I find in parenting books.  Most of it revolves around why someone would even buy the book.  I am beginning to realize how absolutely patronizing this cognition is.
In disregarding parenting books (and those who read them) I am really admitting to my own insecurity: the consuming thought that I am somehow failing as a mother.
Ben and I love talking about our kids.  Especially with other parents.  We also enjoy discussing our methods.  What I have noticed (about myself and other parents) is that we often feel shameful if we admit to doing one thing or another.
For example, early on with Emily I realized that nursing her in bed was so much easier than getting up to nurse her.  Thus, she started sleeping with us.  Once Emily reached 6 months, and could sleep without needing to eat at night, Ben and I decided to let her cry it out.  Since then, she has slept in her own crib in her own room.   We are planning on doing the same thing with Andrew once he reaches 6 months. When people ask about where Andrew sleeps, I ashamedly explain that he sleeps in our bed. I am also reluctant to admit that he will be crying it out soon.
Part of my reluctance is fear of how another parent will categorize me.  Of course, categorizing my methods would be rather difficult.
Based on my early example, do I co-sleep? Or, because we let our babies cry it out in their own cribs at 6 months, are we of the Ferber fold?
Silliness aside, are these categories really necessary?
I wonder if labeling myself–and other parents–is the root reason that dissonance is found in the parenting world.  I personally do not find that any method is really superior.  I think that all parents are trying to figure out how to manage this parenting gig.  They try different things.  In their attempts, they learn what works and what doesn't.  They also realize that different children require different things.  In many ways, parenting is about exploring your creativity.
In my explorations I often hastily conclude that my ways are the best.  I am still confronting many of the biases I have.  I know that I make many facial judgments on how people parent.  Yet, as I grow older and somewhat wiser, I am learning that most parents are doing all they can to ensure a healthy and loving environment for their children.  Rather than put other parents down, I hope to support them in their efforts.
Yes, I used to greatly dislike parenting books.  Now I realize that parenting books are yet another tool that parents can use to figure out their own parenting puzzle.
Do our parenting techniques define us and/or set us apart? Are we really as different as we think we are?  Should we accept that we each have our own brand of parenting and that that is okay? What are some of your favorite parenting books?